MONDAY
JANUARY . 18 .  2021
All trails ,except Kinnickinnick, have been track set today (18th).  Minus 2 and very good conditions.
SAFETY ALERT…..WATCH FOR LOGGING TRUCKS TRAVELLING ON THE LOAKIN-BEAR CREEK ROAD.  THEY ARE ENTERING THE ROAD JUST SOUTH OF OUR PARKING LOT AND TRAVELLING NORTH TO THE ADAMS LAKE MILL.  
PLEASE no snowmobiles or hikers.  Our trails are only available for Skiing and Snowshoeing.  Thanks for your cooperation.
NOTICE OF CHANGE IN TRAIL USE DESIGNATION:  The 'Lake Trails'….Buttercup and Sunflower are now designated for use by both skiers and snowshoers.  THANK  YOU for your cooperation in keeping off the groomed ski track when you are not wearing skis!!  BE KIND AND SHARE THE TRAIL.  All other trails will remain designated for either skiing or snowshoeing and can be found clearly marked on the map.  If you have questions, comments or need assistance in finding a suitable trail please contact the Club…. Skiskmana@gmail.com

WE HAVE A WINNER…….MEMBERS ONLY PRIZE DRAW
CONGRATULATIONS to our members, Dennis & Joanette Girodat from Chase.  They are the winners of a Gift Certificate for a two night stay for up to 8 people in Suite 10 at The Pinnacles Suites at Silver Star Mountain.  This GC does not expire until April 2022.  Estimated value is over $900.
Warming Hut Upgrade 🙂
#1 Before
#2 After
#3 L to R  Dave Lepsoe (Skmana), Dan Nelson & Doug Nelson (Econospan)
#4 Kevin Adam (Scotch Creek Home Hardware)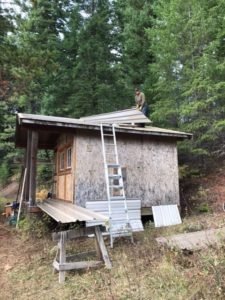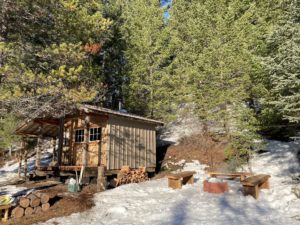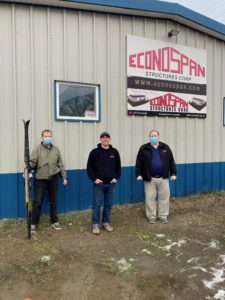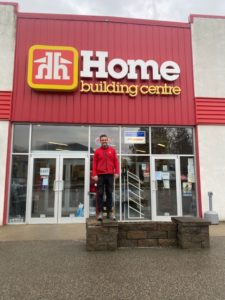 A HUGE Thank You to the generous donors who made our much needed Warming Hut upgrade possible.  The Hut now has a new roof, siding and an outdoor fire pit.  The metal cladding was donated by Econospan Structures Corp., the lumber was donated by Scotch Creek Home Hardware and the fire pit materials were purchased through a donation from TNRD Area Director Mel Rothenburger.  Special mention to Woody's Wholesale Lumber for custom building the incredible benches.
Our ski and snowshoe club offers 18 kms of track set classic ski trials and a generous offering of designated snow shoe trails. All are well marked and cover a very wide range of natural forest, lakes and streams.  Families, social groups and individual skiers and snowshoers will all find the trails very user friendly. You won't be disappointed!
Welcome to Skmana Ski and Snowshoe Club
Upcoming Programs & Events
ALL KIDS PROGRAMS HAVE BEEN CANCELLED FOR THE 2020/2021 SEASON.The program consists of eight weekly lessons (snow and weather permitting) starting on Sundays from January and running until March. The cost and use of equipment, as well as the Bunnyrabbits & Jackrabbits coaching, will be free to club members (a minimum of one adult and one child). The objective is to introduce cross country skiing and the healthy lifestyle associated with it through organized activity and active play. In addition, the program is designed to:
Help children develop a positive self-image
Be fun
Provide children an opportunity to make ski-friends
Develop fundamental movement skills
Help children develop an awareness and appreciation of our natural environment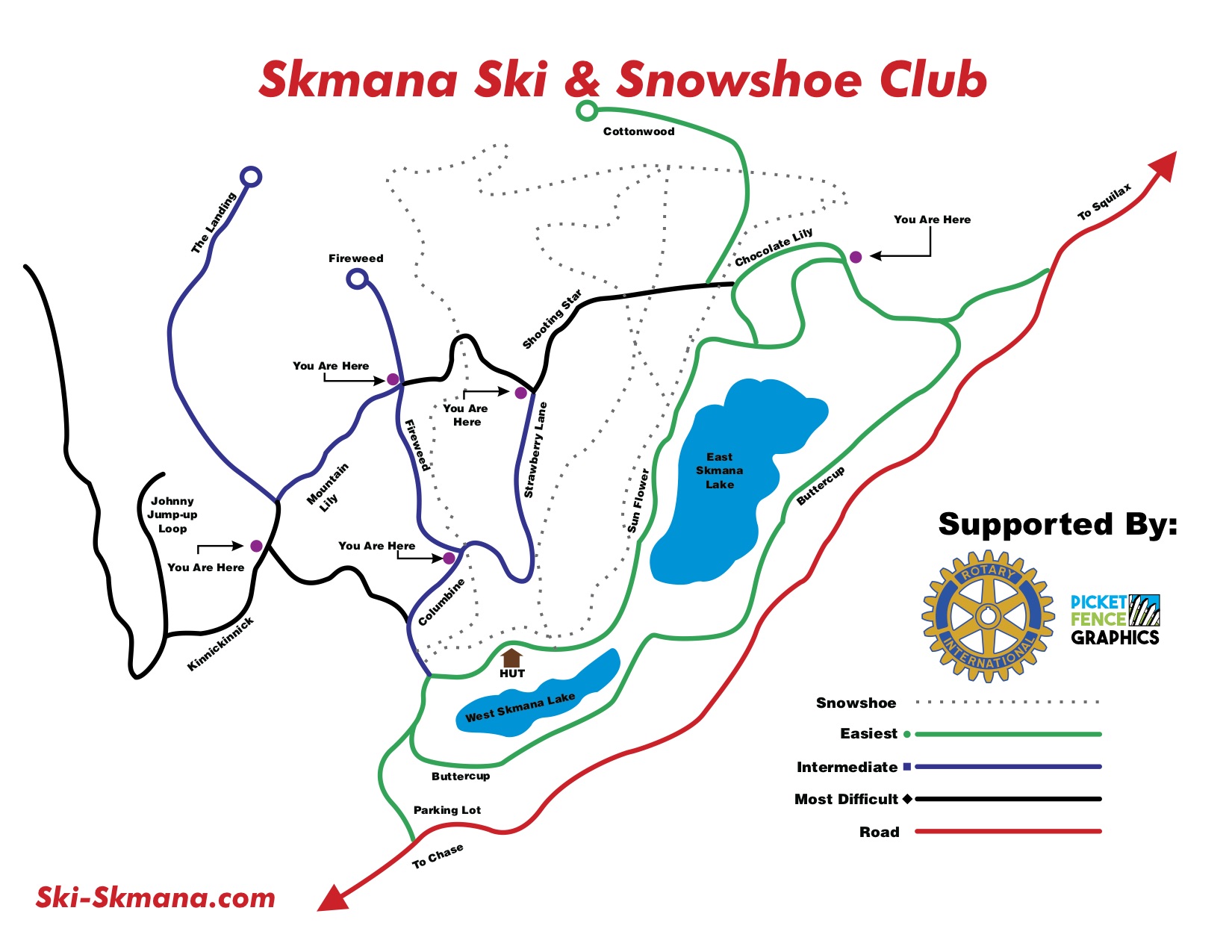 VOLUNTEERS ARE ALWAYS WELCOME – PLEASE CONTACT US IF YOU CAN SPARE EVEN A LITTLE BIT OF YOUR TIME TO GET INVOLVED.  We are 100% volunteer dependent!!!
DIRECTIONS
From downtown Chase, follow Pine St, cross the bridge and travel on Kamloops-Shuswap Road for approximately 4 km.   Turn right on Loakin-Bear Creek Rd. and continue for approximately 10 km – watch for the Skmana parking lot on the left.
From North Shuswap, follow Adams Lake Holding Rd – turn left on Loakin-Bear Creek Rd – travel for approximately 8 km – watch for the Skmana parking lot on the right.