AGM Alert ~ Postponed!
In support of 'flattening the curve,' our AGM will be re-scheduled when social distancing directives have been lifted. Stay safe and healthy in the meantime!
Due to deteriorating snow conditions and a major reduction in usage of the hill, it is time to wrap up the 2019 / 2020 season. Starting the week of March 9th, signage will start to come down and no more grooming will be done. Snowshoe trails are still very usable and skiing around the lake is fine. The warming hut will remain open for the time being. THANKS TO EVERYONE FOR YOUR SUPPORT this past season!
NEWS
**Event** on 15 Feb 2020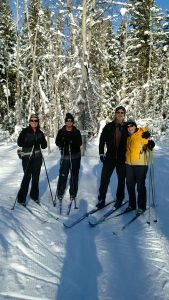 FAMILY FRIENDLY OPEN HOUSE
Part of the North Shuswap Winter Festival
February 15, 2020
11 AM to 3 PM
Warming hut will be open and the fire will be on by 11.
Visitors are invited to bring a lunch, a hot beverage and sit by the fire and enjoy a sweet treat from the Club.
Ski & snowshoe tours will be available starting from the parking lot at 12 and 2.
A limited number of children's skis and adult size snowshoes can be prearranged, on a first come first served basis, by emailing skiskmana@gmail.com
More info and maps can be found at skiskmana.com
NEWS
**Event** Feb 28 – Mar 1 2020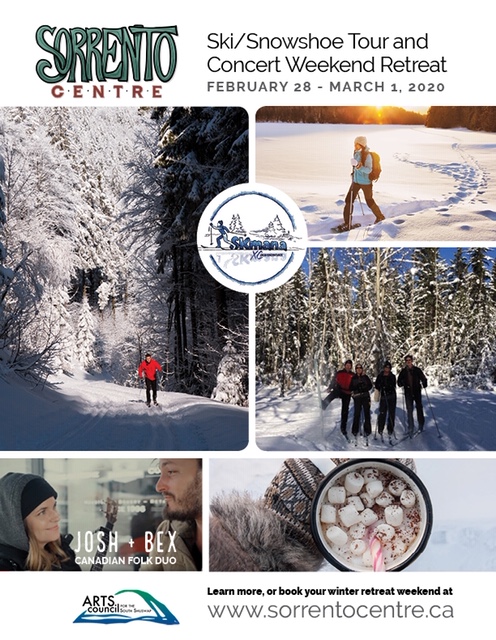 Wow! What a weekend. We're thrilled to partner with the Sorrento Centre on this winter retreat weekend. Set in the peaceful space of the Sorrento Centre and paired with live music, cross country skiing or snowshoeing, and wonderful food — sounds amazing.
For full details and to save your space, visit www.sorrentocentre.ca
Skmana has triple the Bunnyrabbits and Jackrabbits this year, compared with last year, and we've realized that we're short on some equipment sizes for the Jackrabbits.
We've got 2 sets of BRAND NEW, NEVER USED Rossignol junior nordic ski kits for sale: $150 each set.
Ski sizes are 160 or 170 cm (good for 99 – 119 lb)
Boot sizes (6 – 7.5)
Poles (appropriate for the height of the user)
Please contact Michelle at skiskmana@gmail.com if you're interested!
Skmana Ski & Snowshoe Club is very grateful for the recent financial assistance provided to us by the Chase Rotary Club.
Those funds allowed us to purchase new and badly needed trail signs. Greatly appreciated, Rotary!
Welcome to Skmana Cross-Country Ski and Snowshoe Club
Our ski club offers 14 kms of track set classic ski trials and a generous offering of designated snow shoe trails. All are well marked and cover a very wide range of natural forest, lakes and streams. If you watch closely you may even encounter snowshoe hares, woodpeckers and grouse. With real luck you may come across our resident moose.  Families, social groups and individual skiers and snowshoe's will all find the trails very user friendly. You won't be disappointed!
The trails are located at Skmana Lakes Forestry Recreation Site and are managed by the club. A warming hut is provided as a social gathering place.
The program consists of eight weekly lessons (snow and weather permitting) starting on Sundays from January 12 and running until March 8, 1 – 2 PM. The cost and use of equipment, as well as the Bunnyrabbits & Jackrabbits coaching, will be free to club members (a minimum of one adult and one child). The objective is to introduce cross country skiing and the healthy lifestyle associated with it through organized activity and active play. In addition, the program is designed to:
Help children develop a positive self-image
Be fun
Provide children an opportunity to make ski-friends
Develop fundamental movement skills
Help children develop an awareness and appreciation of our natural environment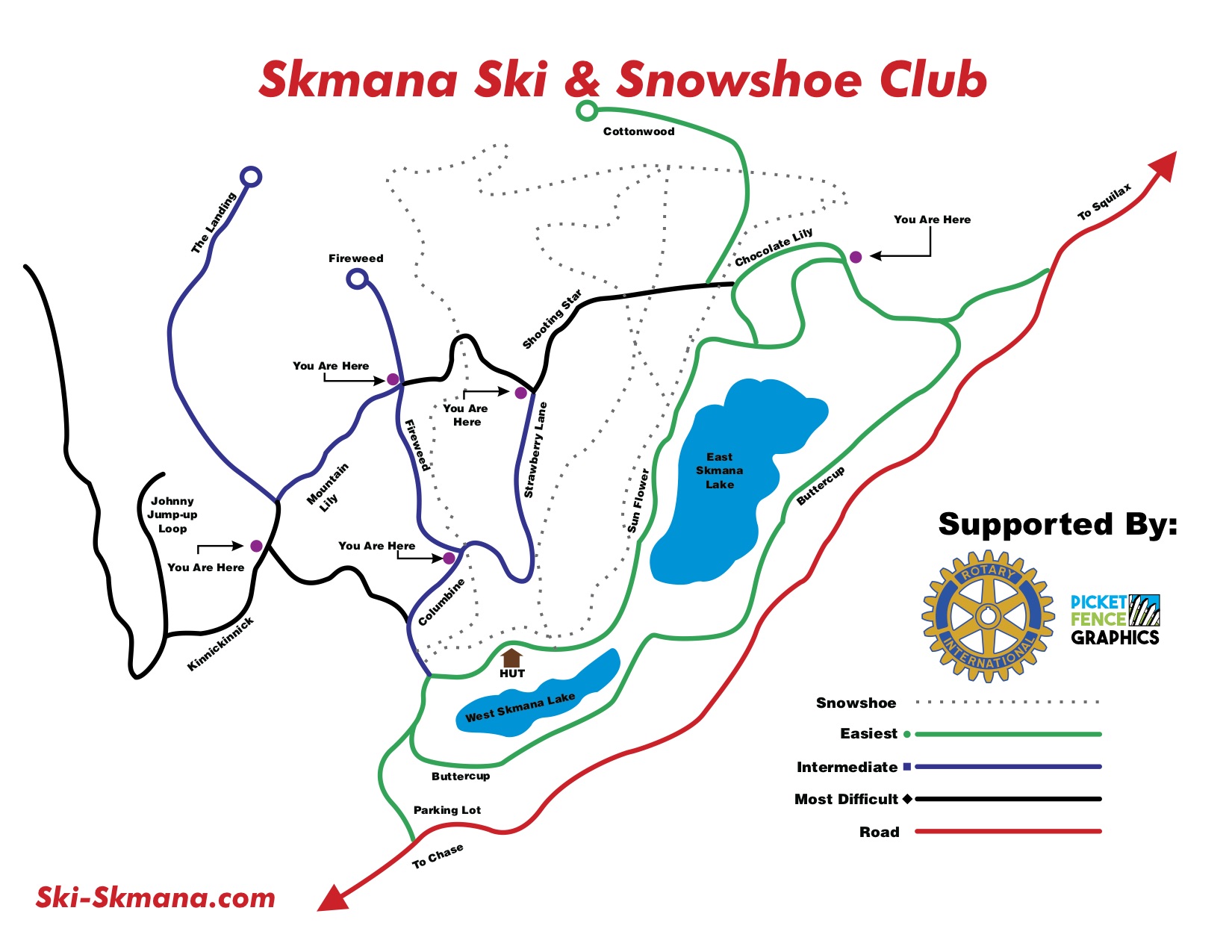 Want to Join The Club?
We need people for a wide variety of jobs, if you have a special skill and would like to volunteer your expertise, reach out to us on our contact page. We would love to have you on board!
Fundraising Coordinator – Includes everything from Corporate donation requests to bottle drives and silent auctions. This activity can be done anytime during the year. New ideas are welcome.
Trail Grooming – Includes operating snowmobiles and pulling grooming equipment as well moving snow manually and tree cutting and clipping. Generally trails need grooming 2 – 3 times per week, depending on snow conditions and new snow falls.
Activity Planner – Determines and organizes on hill activities, including advertising the events and attending as host.
Parade Decoration Crew – An annual one time event usually in November during Chase Christmas Activities.
Membership Drives & Processing – Responsible for advertising for new members as well as collecting enrollment forms and collecting fees.
DIRECTIONS
From downtown Chase, follow Pine street and cross the bridge. Travel west on Kamloops-Shuswap Road for approximately 4 km and turn right on Loakin-Bear Creek Road. Follow switchbacks up the hill. Continue for approximately 10 km on Loakin-Bear Creek road,  watching for the Skmana parking lot on the left.