AGM Alert ~ Postponed!
In support of 'flattening the curve,' our 2019/2020 Season AGM will be re-scheduled when social distancing directives have been lifted. Stay safe and healthy in the meantime!
Board of Directors Votes to Increase Day Use Fee 
As you know, our trails are cared for 100% by Volunteers and we need to fundraise to meet operational expenses. To help us be more self-sustaining, we have had to increase our Day Use Fee to $10 per person.
Why Not Be a Skmana Member?
Memberships – $50 per adult, $30 per youth 13 to 18, $25 per child 12 & under and $160 per family.
Having strong membership numbers helps us with our fundraising efforts, including where our members are coming from. Having members from all around the TNRD and CSRD is our goal!
Why Not Volunteer?
If you can spare some time, we can always use help…it's nice to have a list of people we can call on when we need them. We cannot always predict things like trail clearing, maintenance, or grooming schedules in advance. Let us know if you want to be on our "call list."  It's good clean fun ☺
Our ski club offers 14 kms of track set classic ski trials and a generous offering of designated snow shoe trails. All are well marked and cover a very wide range of natural forest, lakes and streams. If you watch closely you may even encounter snowshoe hares, woodpeckers and grouse. With real luck you may come across our resident moose.  Families, social groups and individual skiers and snowshoe's will all find the trails very user friendly. You won't be disappointed!
The trails are located at Skmana Lakes Forestry Recreation Site and are managed by the club. A warming hut is provided as a social gathering place.
Welcome to Skmana Cross-Country Ski and Snowshoe Club
Upcoming Programs & Events
ALL KIDS PROGRAMS HAVE BEEN CANCELLED FOR THE 2020/2021 SEASON.The program consists of eight weekly lessons (snow and weather permitting) starting on Sundays from January 12 and running until March 8, 1 – 2 PM. The cost and use of equipment, as well as the Bunnyrabbits & Jackrabbits coaching, will be free to club members (a minimum of one adult and one child). The objective is to introduce cross country skiing and the healthy lifestyle associated with it through organized activity and active play. In addition, the program is designed to:
Help children develop a positive self-image
Be fun
Provide children an opportunity to make ski-friends
Develop fundamental movement skills
Help children develop an awareness and appreciation of our natural environment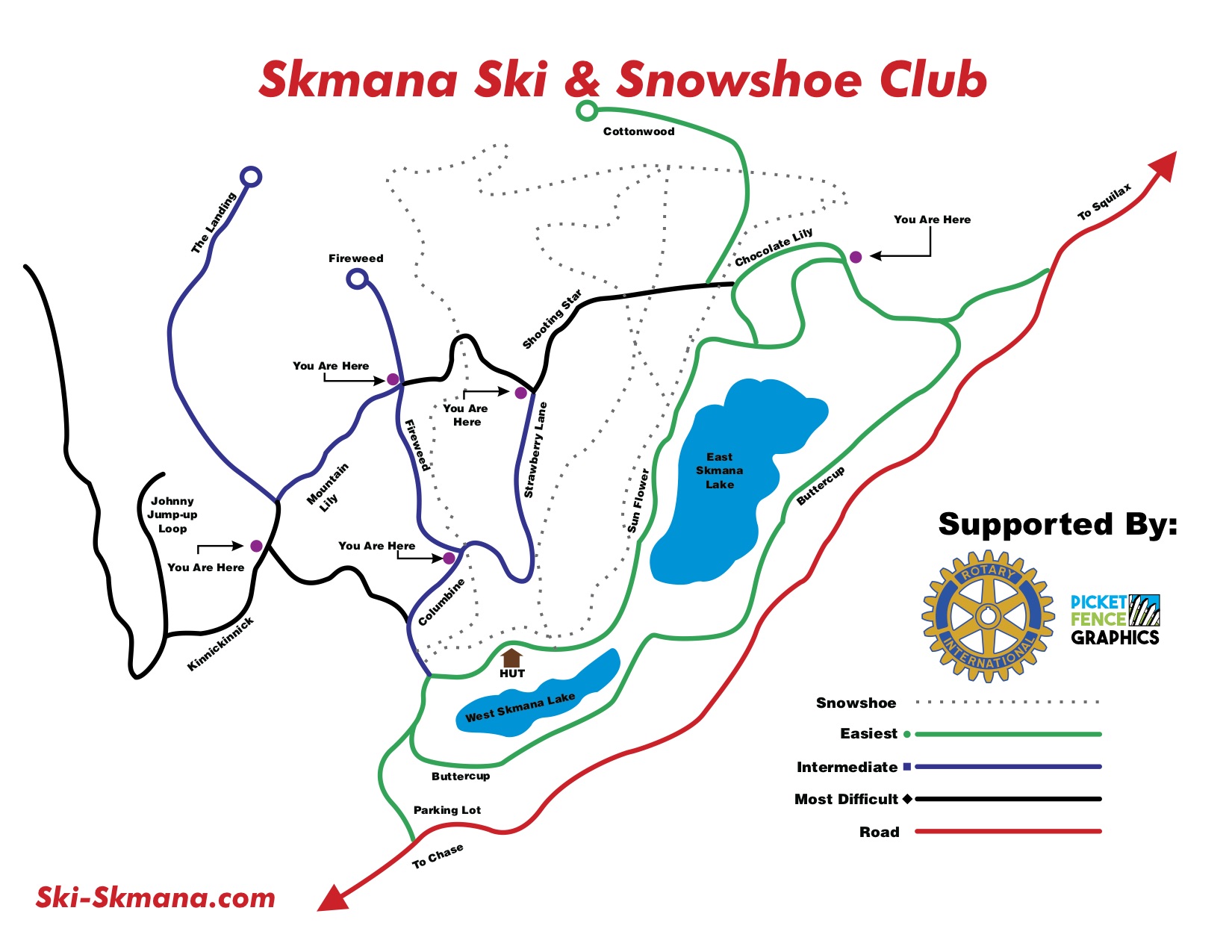 VOLUNTEERS ARE ALWAYS WELCOME – PLEASE CONTACT US IF YOU CAN SPARE EVEN A LITTLE BIT OF YOUR TIME TO GET INVOLVED.  We are 100% volunteer dependent!!!
DIRECTIONS
From downtown Chase, follow Pine street and cross the bridge. Travel west on Kamloops-Shuswap Road for approximately 4 km and turn right on Loakin-Bear Creek Road. Follow switchbacks up the hill. Continue for approximately 10 km on Loakin-Bear Creek road,  watching for the Skmana parking lot on the left.