PURCHASE YOUR MEMBERSHIP by midnight on  DEC 1ST !!!! – WE ARE IN THE RUNNING FOR SOME GREAT PRIZES FROM CROSS COUNTRY BC IF WE CAN CONTINUE TO INCREASE OUR MEMBERSHIP NUMBERS!!
……we have reached the 107 mark as of today Nov 27…a few more days to stay ahead of the pack….spread the word!
Remember….Day Use Fees have increased to $10 this season – a single adult membership will be paid for in just 5 visits!!
All ski trails now packed and tracked – exception is the Sunflower Trail – it remains closed due to lack of snow.  There are some hazards so ski with caution.  Overall the conditions are very good!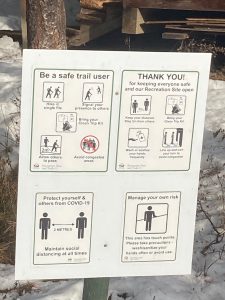 COVID GUIDELINES HAVE BEEN CLEARLY POSTED AT THE TRAILHEAD AND AT THE HUT AREA – PLEASE BE SAFE AND BE KIND TO OTHER TRAIL USERS.  EVERYONE MUST SIGN IN AT THE KIOSK!!!  IF YOU USE THE HUT, PLEASE FOLLOW THE RULES AS POSTED ON THE DOOR – PLEASE DO NOT MONOPOLIZE THE SPACE – SHARE – GIVE EVERYONE A TURN, PARTICULARLY IF IT IS COLD!
We are currently working on ensuring our parking lot is cleared on a regular basis to keep it safe and accessible.  Please be patient and safe in the meantime.
SKMANA SKI TRAILS SERIOUSLY DAMAGED
On or about November 16th a vehicle illegally drove on to our trails (at the Skmana Lake Recreation Site).  This individual or individuals entered the parking lot, completely ignored the signs and the barrier and proceeded up up the ski trail, past the Kiosk and then up Kinnikinik Trail  before turning around in two places.  This inappropriate action has caused major damage to our trails.  Our volunteers work exceptionally long and hard at this time of year to ensure the trails are both well groomed and safe for our members and visitors.  This is not the first time we have faced this type of vandalism and will be exploring alternative means of protecting our trails from the people who do this kind of thing.  There are lots of places to drive off road….damaging a Recreation Site is absolutely unnecessary!!
Our ski club offers 14 kms of track set classic ski trials and a generous offering of designated snow shoe trails. All are well marked and cover a very wide range of natural forest, lakes and streams. If you watch closely you may even encounter snowshoe hares, woodpeckers and grouse. With real luck you may come across our resident moose.  Families, social groups and individual skiers and snowshoe's will all find the trails very user friendly. You won't be disappointed!
The trails are located at Skmana Lakes Forestry Recreation Site and are managed by the club. A warming hut is provided as a social gathering place.
Welcome to Skmana Cross-Country Ski and Snowshoe Club
Upcoming Programs & Events
ALL KIDS PROGRAMS HAVE BEEN CANCELLED FOR THE 2020/2021 SEASON.The program consists of eight weekly lessons (snow and weather permitting) starting on Sundays from January 12 and running until March 8, 1 – 2 PM. The cost and use of equipment, as well as the Bunnyrabbits & Jackrabbits coaching, will be free to club members (a minimum of one adult and one child). The objective is to introduce cross country skiing and the healthy lifestyle associated with it through organized activity and active play. In addition, the program is designed to:
Help children develop a positive self-image
Be fun
Provide children an opportunity to make ski-friends
Develop fundamental movement skills
Help children develop an awareness and appreciation of our natural environment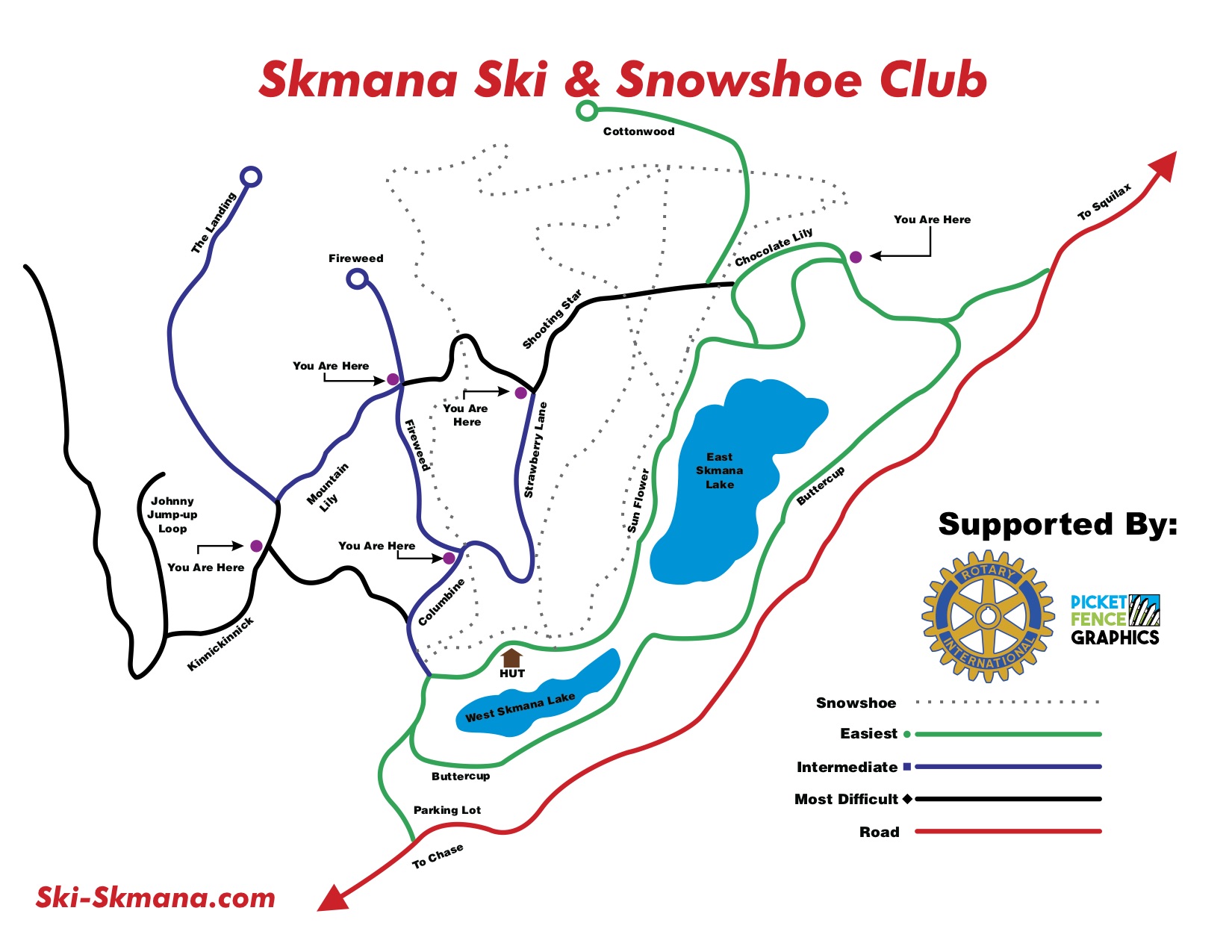 VOLUNTEERS ARE ALWAYS WELCOME – PLEASE CONTACT US IF YOU CAN SPARE EVEN A LITTLE BIT OF YOUR TIME TO GET INVOLVED.  We are 100% volunteer dependent!!!
DIRECTIONS
From downtown Chase, follow Pine St, cross the bridge and travel on Kamloops-Shuswap Road for approximately 4 km.   Turn right on Loakin-Bear Creek Rd. and continue for approximately 10 km – watch for the Skmana parking lot on the left.
From North Shuswap, follow Adams Lake Holding Rd – turn left on Loakin-Bear Creek Rd – travel for approximately 8 km – watch for the Skmana parking lot on the right.